YL-PM-026 Abrasive Belt Multifunction Grinding Machine, is a precise and durable machine for home or industry uses.
This sand belt grinder is wide range of uses, suitable for knife, watch case, hinges and many kinds of hardwares sanding grinding and repairing.
There are two kind specification, one is vertical sand belt grinding machine, the other one is small abrasive grinder which can fixed on a table.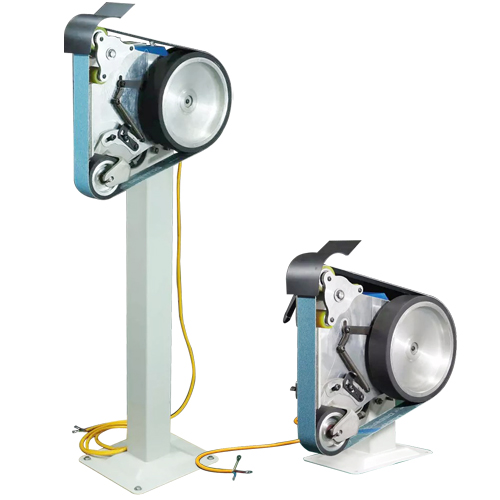 1. Technical Parameters
Type
YL-PM-026
Item
Multifunction abrasive belt grinding machine
Voltage
220V / 380V, 50HZ
Motor
1.1KW, Three-phase
Power factor
0.84
Electric Current
4.5/2.6A
Rotate Speed
852r/min--2840r/min
Efficiency
77%
Insulation Class
F
Machine Weight
Vertical one: 30kg
Small one: 21.5kg
Machine Size (L*W*H)
Vertical one: 41mm*36mm*1030mm
Small one: 41mm*36mm*350mm
Abrasive Belt Size
1275mm*50mm (L*W)
2. Feature
-- The worktable is made of casting stainless steel, so it is pulsate less, low noise, high stability, durable, and suitable for precision machining.
-- It is suitable for home and industry voltage (220V / 380V), easy control and wide range of applications.
-- Widely use for hardwares grinding and repairing, such as knife, watch case, hinges and so on.
-- There are mulfunction concentrate in one machine, improve efficiency and save cost.
3. Machine Using Method
A. This switch can adjust the working table to be horizontal or vertical.

B. The red operating lever can control the working table to be differernt angle you want.

C. The black operating lever use for change the 3pcs rubber wheel position to grind different arc part surface.

D. This Spring button is use for adjusting abrasive belt position during grinding.

E. The metal switch is use for install or remove the abrasive belt.
- Install the abrasive belt on the machine, then push the metal switch to fixed.

- Press the abrasive belt, then can remove the sand belt.

4. Machine accessories and usage
A. This machine accessory use to help the 3pcs rubber wheel to grind different arc part surface. It can also use to help plane surface grind.

B. This machine accessory is use help to hold the products during vertical grinding and sanding.
C. This machine accessory is use to hold the product, install near the rubber wheel.

D. This machine accessory is use to prevent the user burn during grinding.