wood and metal tubes surface deburring and wire drawing grinding machine
The abrasive belt sanding grinding machine suitable for wood, metal and plexiglass tubes and pipes surface deburring and wire drawing.
Widely used in all kinds of handicrafts, furniture and special hardware products industry.
This tube wire drawing machine is easy to control, you just need to change different grades abrasive belt to achive your required polishing effect.
1. Technical Parameters
| | |
| --- | --- |
| Voltage | 380V, 50Hz |
| Main motor power | 2.2KW |
| Fans power | 0.44KW |
| Driving wheel speed | 1420r/min |
| Abrasive belt speed | 890mm/min |
| Feeding wheel speed | 70r/min |
| Feeding speed | 5-15m/min, can adjusted by feeding angle |
| Tube diamenter | 10-60mm, skilled workers can process 6-60mm |
| Abrasive belt size | 1820*120mm (L*W) |
| Machine size | 500*700*1250mm (L*W*H) |
| Machine weight | 360KG |
2. How to use
A. Place the pipe grinding machine horizontally on a hard flat surface.
B. Install and remove the belt: The belt is controlled by an elastic spring. And move from top to bottom.
Use the round tube ( send with the grinding machine) to harness the spring control device, press down, then the abrasive belt will release;
Adjust the abrasive belt location, release the spring controller naturally, and locked with a screw handle, so install and fixed the sand belt.
C. Turn the screw handle which on the rubber wheel housing, to adjust the feeding rubber wheel in and out position.
Until the tube rotating freely, that the feeding rubber wheel, round tube and abrasive belt can reach a best friction distance.
The feeding rubber wheel rotates counterclockwise (from bottom to top).
D. Adjust the feeding pallet up and down by screw handle, to make the circle pipe, feeding rubber wheel and sanding belt on a best center position.
E. This pipe grinding machine is very easy to control, only two buttons "ON and OFF".
F. During feeding, the sand belt down movement, and feeding rubber wheel up movement.
When the feeding rubber wheel angle move to left, and the angle larger, the feeding speed faster.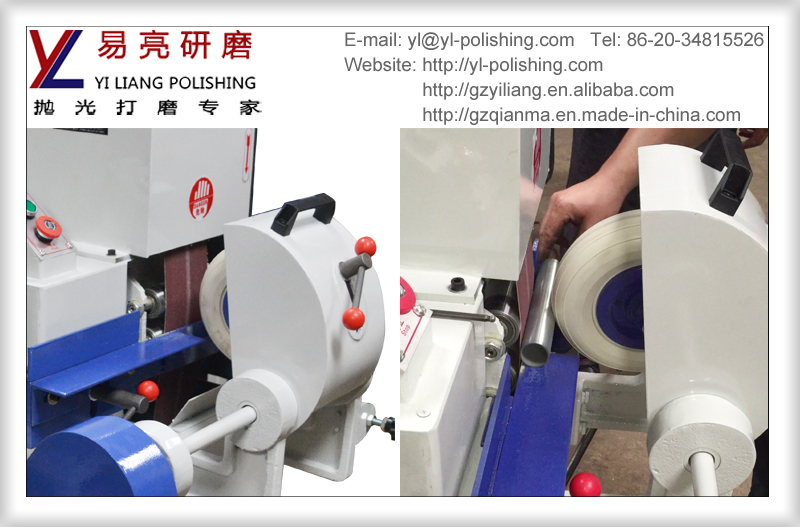 3. Polishing effect: fine wire drawing finished